Should You Refinance Your Panama City Beach Condo?
Written By: Miller and Associates Realty On: 27th December 2019 Under: Panama City Beach Condos, Panama City Condos, Real Estate Market, Real Estate Tips, Tips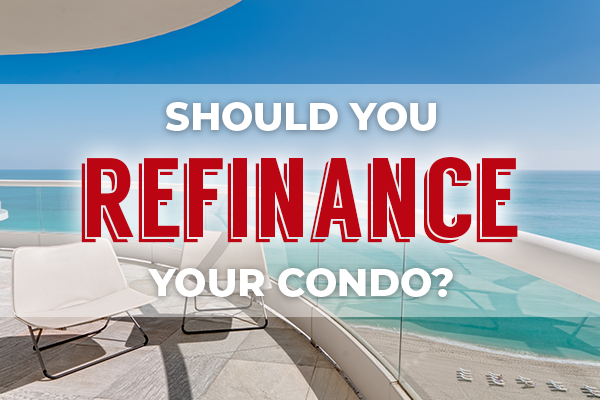 Whether your Panama City Beach condo is your primary residence or your vacation home away from  home, refinancing can benefit you in several different ways. When it comes to refinancing your Panama City Beach condo, you can do so usually in the same way you would refinance a home loan.
Here are some great reasons you may want to refinance your loan:
You want to pay off your loan faster
When you take on a shorter loan term, it will increase your monthly payment amount. However, before you run for the hills, keep in mind that paying off your loan faster will save you a lot of money in interest. This is a great option for those who earn more money now than before when you first took out your loan.
You want to consolidate your debt
For most, your condo in Panama City Beach isn't just your paradise away from home, but it's also a great way for you to build equity in your property. For instance, if you originally had a loan valued at $150,000 and you paid off $75,000 of your principal, you have a 50% equity.
A great way to access this equity is with a cash-out refinance. This is where you can accept a higher loan balance and then take out the difference of that balance in a cash amount. A smart way to use this cash-out refinance is to pay off debt.
You want to lower your interest rate
When you first initially got your loan, your interest rate may have been higher than it is now. If you refinance your loan, you could save money by getting a lower interest rate. It's important to remember that you could also get a lower interest rate if your credit score is better than before or if you have less debt.
You want to get rid of your mortgage insurance
If you have an FHA loan, you know that you have to pay insurance premiums throughout the duration of the loan if you made a down payment that was under 10%. Once hitting 20% equity, many condo owners like to refinance their loan into a conventional loan so they can remove the mortgage insurance and in turn, save money.
No matter the reason you decide to refinance your condo loan, make sure you check to see that your property qualifies for a refinance in the first place. You should also compare lenders in the area to see who would best suit your needs.
Not looking to refinance, but you're possibly interested in selling your home in this great sellers market? Let us help you! Contact Miller & Associates today!