5 Reasons You Need a Realtor
Written By: Miller and Associates Realty On: 19th September 2019 Under: Real Estate Tips, Sellers, Tips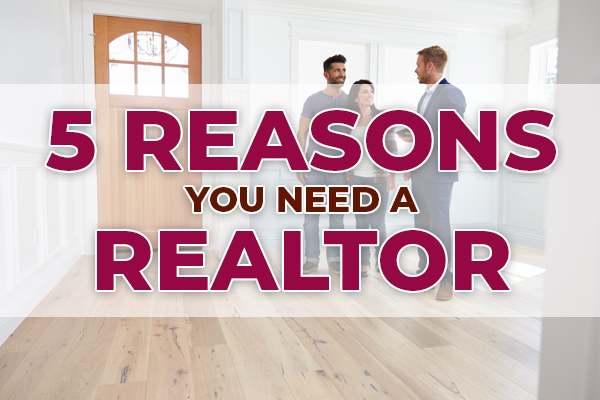 When you decide to put your home on the market, you can opt to sell it yourself, or choose a Realtor to list the property for you. Many first-time sellers choose For Sale By Owner, thinking they will save more money than the latter. However, selling a home yourself is not as easy as you might think, and in the long run could end up costing you more money.
Here are five reasons why you may want to consider using a Realtor to help sell your home:
Market Smarts
Do you know the difference between a buyer's market and a seller's market? If not, you're going to find real estate to be a complex business. A Realtor is an expert in the housing market. Miller and Associates Realty's Chad and Joanie Miller have a combined 24 years in the industry.
Their team is prepared with advice that is the product of experience, through market knowledge and endless research. Selling your home is a huge transaction and you shouldn't risk making mistakes by not using someone who knows what they are doing.
Do You Have Time?
Can you juggle your own job, family responsibilities, and also have enough time to efficiently sell your home? Selling homes can be a full-time job. It takes a lot of time and effort to stage your home, show your home, negotiate offers, answer questions, etc… A Realtor from Miller and Associates can help take those tasks off your hands.
Seem More Legit
When you use a Realtor, you add a professional face to your listing. Traditionally, buyers feel more comfortable when working with a prominent and well-known Real Estate Agent. This can help increase the number of potential buyers who see your home and will end of taking the listing more seriously when it comes to making an offer.
Negotiate With Ease
Will you be ready to respond to multiple bids or what to look for in a purchasing agreement? Do you know the techniques for keeping a buyer interested in your property when they're considering to walk away or not?
This process can make or break a sale and having a Realtor behind you can make all the difference. Miller and Associates in Panama City Beach also educates their buyers about the process, and offers support and advice in order to establish a smooth negotiation.
Smooth Transaction
Selling a home involves a lot of people, paperwork, and processes. If you aren't properly educated in real estate, you can quickly lose control of everything. With the Miller Team, you can be confident when signing a contract. You have a full team of real estate specialists protecting your interests. As well, we have an in-house Broker reviewing all documents.
Don't risk losing a sale or selling for far less than you should. Be smart and use a Realtor to sell your home and you'll sell quicker and enjoy a better profit as a result.
Please allow us the opportunity to represent you in the sale or purchase of property in Bay County, Florida and surrounding areas. Call our office today at (850) 249-6655 to get started!