8 Ways to Know You've Found the Right House
Written By: Miller and Associates Realty On: 13th November 2019 Under: Buyers, Real Estate Tips, Tips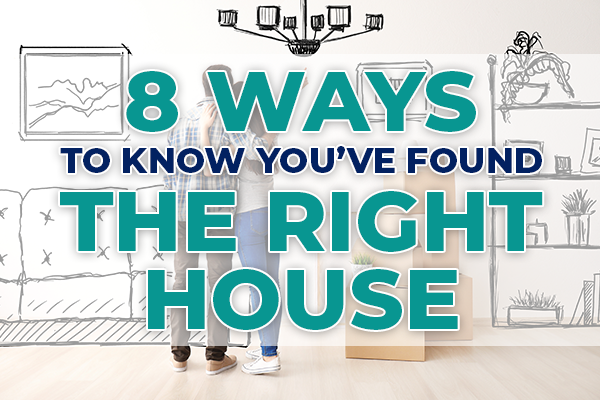 1) You Want to Go Inside
Part of the excitement of looking at homes is not knowing which could be your new home when you pull up for the first time. Is it the one on the left, or does the house on the right catch your eye? If it is the house on the right, and you like it better than the house on the left, that could be a sign.
2) You Love It the Moment You Enter
Within the first three seconds of entering the house, you will know whether it feels warm and inviting to you. Does it seem to speak to you? Does it feel right? If the house already feels like home, then chances are it probably is.
3) You Don't Feel Weird in the Bathroom
Sometimes buyers feel uncomfortable in a bathroom that they are not familiar with. They are even afraid to let their feet touch the floor. They will stand outside, grip the door frame, and poke their heads in for a second. If you can walk freely into the bathroom and feel comfortable opening the shower door or touching the counter tops, this is your house.
4) You Are Possessive Over the House
Maybe your agent points out a flaw and says, "There is a small crack in this tile,"… You may want to defend every flaw you see. If you notice a few flaws, and those flaws do not matter to you, you're falling in love with the house.
5) You Already Envision Where to Put Furniture
If you walk into the master bedroom and can immediately see where you can put your bed or dresser against a particular wall, this might be your house. If you find yourself thinking that the large corner in the living room is a perfect spot to put a Christmas tree come winter, you're already hooked.
6) You Can See Yourself Painting a Wall Your Favorite Color
Maybe you're thinking those drab beige walls in the bedrooms would look better in a light sage green color. If you can get past whatever colors the house already has, or you already love the paint colors, it may be your house.
7) The House Fits Your Basic Needs
The homes features might not hit every bullet point on your list, but it meets the basic requirements. The house has the number of rooms and space you need, etc. Being flexible about which issues are deal-killers is a good quality to develop as you search for homes in Panama City Beach..
8) You Want to Stop Searching for Other Homes
All of the other homes you've been looking at are no longer as appealing as they were before. The homes on that list you've been carrying around seem insignificant. You would feel like a traitor to this home if you went to visit other homes. That's a huge sign you've found the right house.