Restaurants Serving Thanksgiving Meals in Panama City Beach
Written By: Miller and Associates Realty On: 20th November 2019 Under: Local Information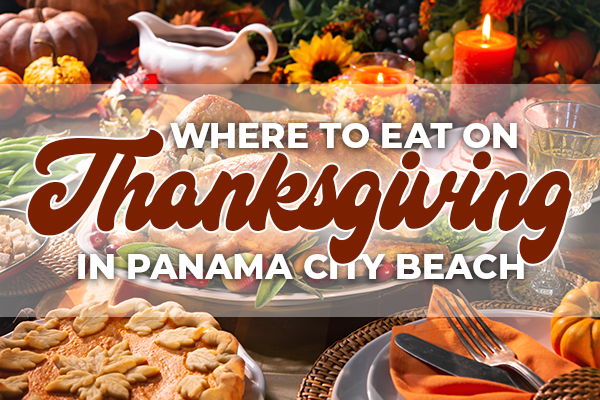 The season of being thankful is upon us! It's the best time for celebrating all that we are grateful for, and even more so, the delicious food that comes with it!
If you're looking for a tasty meal without all of the hassle of cooking and washing dishes, you're in luck. Many restaurants around Panama City Beach are hosting feasts to celebrate the holiday.
Schooners
Website
5121 Gulf Dr, Panama City Beach, Florida 32408
(850) 235-3555
Cost: $20 per person
Chef Konrad and Chef Justin have prepared a delicious Thanksgiving-themed menu with traditional favorites, plus a few more adventurous dishes, like Lobster Etouffee! Enjoy Sliced Turkey Breast or Sliced Ham with Mashed Potatoes, Sweet Potato Souffle, Cornbread Dressing, Green Beans & Mushrooms, Gravy, and Cranberry Sauce…top it off with Pumpkin Gooey Cake! (Many of our most popular dishes from the regular menu will also be available.)
Sheraton Golf & Spa Resort
Website
4114 Jan Cooley Drive, Panama City Beach, Florida 32408
(850) 236-6000
Cost: $29.95 per adult | $14.95 per child
Looking to celebrate your Thanksgiving Feast a little later in the day? Treat your family to a delicious Thanksgiving Dinner at TIDES Restaurant overlooking St. Andrews Bay.  A mouthwatering 4 course menu will offer your favorite holiday fare and decadent desserts. Our Sommelier will be on hand to help pick the perfect pairing of wine with each course.
Dat Cajun Place
Website
8501 Thomas Drive, Panama City Beach, Florida 32408
(850) 588-5314
Cost: $25 per adult | $12.50 per child (12 & under) | $20 Military
Dat Cajun Place will be hosting their second annual all you can eat Thanksgiving Buffet. The menu will be announced on their Facebook event page. We will be pre-selling tickets for ONLY $20 until 11.27.19
*children and military tickets will remain the same price
*every purchase includes a free soft drink
*space and supplies are limited
Sharky's
Website
15201 Front Beach Rd., Panama City Beach, FL 32413
(850) 235-2420
Cost: $27.95 per adult | $15.95 per child (12 & under) | 4 and under FREE
Greens & Salads
Mashed Potatoes & Turkey Gravy
Buttered Corn
Green Bean Casserole
Broccoli Casserole
Steamed Veggies
Herbed Tomato Salad
Tossed Salad
AuGratin Potatoes
Cornbread Stuffing
Cranberry Sauce
Candied Yams
From Land & Sea
Roast Prime Rib of Beef
Crab Legs (up-charge)
Roasted Turkey Breast
Sliced Honey Ham
Fried Shrimp
Fried Fish
Grecian Style Fish
Pesto Chicken
Biloxi Crab Cakes
Breads & Sweets
Assorted Dinner Rolls
Jalapeno Cheddar Cornbread
Pumpkin Pie
Pecan Pie
Apple Cobbler

Harpoon Harry's
Website
12627 Front Beach Rd, Panama City Beach, Florida 32407
(850) 234-6060
Cost: $34.95 per adult | $17.95 per child (4-11) | 3 and under FREE
Harpoon Harry's is once again set to host its traditional turkey buffet. However, in addition to the turkey, you'll also be able to enjoy all-you-can-eat Alaskan Crab Legs and shrimp! Not to mention the desserts! Open from 11AM and accepting reservations until 7PM, guests are encouraged to bring the family and enjoy a nice holiday dinner experience. Both outside and inside dining will be available.