5 Home Buying Steps You Should Make Before Making an Offer
Written By: Miller and Associates Realty On: 27th November 2019 Under: Real Estate Tips, Tips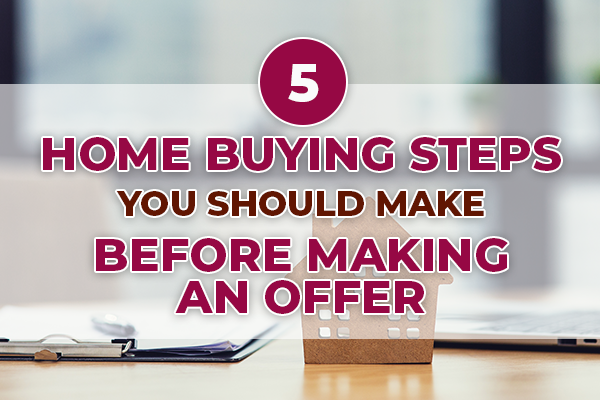 Buying a home is much different than making other purchases like groceries or even a new car. The process is long, and there are very important steps every buyer should take before starting their search.
Those searching for homes in Panama City Beach who do the planning and work upfront often are rewarded a nicer home and better mortgage rates. Following these simple steps will help new home buyers make an offer with confidence and find a home that suits their needs.
Plan for the Future
It's important to examine the stage of life you're in when deciding to buy a new home. Make sure you are ready to settle in to one place for a while and that you're willing to provide the upkeep and maintenance to the home. Real estate transactions are expensive and can take months to complete. Be sure you are ready to make the leap and invest in yourself and the property.

Check Your Credit
When it comes to determining your mortgage rate, your credit score is one of the most important factors. Take the time to go through your credit report and flag any errors. Document the errors and contact the credit bureaus to have them removed.

Calculate Your Max Monthly Payment
Whatever your long-term goals may be, calculate the maximum amount you want to pay each month and don't exceed it. You may have an expensive hobby you enjoy or plan to work less when you decide to start a family. Factor in all of these costs, along with the principal, interest, property taxes, HOA dues, and maintenance.

Browse Lenders
Contact at least two or three different mortgage lenders before starting your Panama City Beach home search. Request a mortgage quote in writing and ask one lender to beat the lowest rate and fee structure from another. Also keep in mind that knowledge, professionalism, and communication style is important as well
Get a Pre-approval Letter
To make your home loan process go smoothly, get a written pre-approval. Sellers will respect you for it and will be advised by their Panama City Beach real estate agent to accept offers with a solid finance plan.
Have any questions? Our agents are prepared to advise clients based on experience, thorough market knowledge, and careful research. Contact us today so we can assist you in your home buying process.